Glasses Ministry Partners with Esperanza House
Since 2004, the Auburn UMC Reading Glasses Team has served in four countries throughout Central and South America and in several locations in and around Auburn. We are thankful for the opportunity to have over 9,100 pairs of glasses and sunglasses. We have eye charts in Spanish, French Creole, and English with words in each language – and numbers and symbols for patients who cannot read. The glasses come in 13 different strengths and have been provided by many generous donors whose generosity has sustained us.
Our team has served with Auburn UMC's Nicaragua mission teams for many years. In 2019, the team was unable to go to Nicaragua because of political demonstrations which resulted in hundreds of deaths. The team did return to Nicaragua in February 2020 just two weeks before the COVID-19 pandemic stopped international travel in its tracks. One man in Nicaragua told us that this was the first time he has been able to read in seven years – praise God!
Our team was unable to return to Nicaragua in 2021, but we were recently invited to host a reading glasses clinic in Auburn with the Esperanza House ministry. Esperanza House (esperanza means "hope" in Spanish) is a local mission partner and serves with children and families who have immigrated to Auburn from Central American countries and Mexico. Our team is always ready and eager to help people to be able to read!
The clinic was held at Gateway Family Church on Saturday October 23. Our team was ready to examine up to 200 patients and we ended up serving with 45. One day in Panama we complained to the missionary because we only saw 25 patients one day. His reply was "But think what you did for each person!" Each person is more important than the total numbers. We conducted the examinations mostly in Spanish because of their limited ability to read or speak English.
Each mission experience is different and interesting situations are encountered. One elderly lady spoke a dialect that none of our Spanish translators understood, but a team member was still able to fit her with the proper glasses. One man said he would see specs in his eyes for about a week and then they would go away and come back. He was fitted with reading glasses and referred to an eye specialist. Sometimes a team member just cannot fit a patient.
This situation occurred but another team member was able to provide the proper glasses. Another lady could speak and read English but still preferred to be examined in Spanish. We enjoyed a moment of laughter when one team member asked a patient "How are you?" She replied, "I am 43".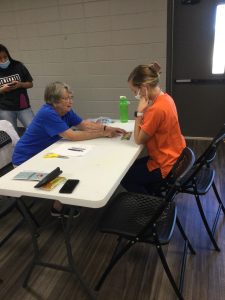 We are thankful for the opportunity to serve with Esperanza House and be a part of their ministry welcoming and supporting immigrant families in our community. We look forward to continuing to serve in the Auburn area and, at the same time, are eager to return to ministry with our friends in Nicaragua. Please keep them in your prayers.
If you want to learn more about our reading glasses team, please contact Joe Davis at joed@aumc.net.